At the Robert Moss BLOG
Ariadne and the Moon Bull that Came to My Town
April 9, 2021
A dream shows me how to craft a new group shamanic journey into mythic territory in quest of the Minotaur. Then the Minotaur turns up, thirty feet tall, on a building haf a mile from my house in a little rustbelt city in the Northeast United States.
Like the Great Goddess,a myth we can live by may turn any one of a thousand faces to us. Sometimes they shine on us in dreams, as in  a dream I recorded on May 13,2018. Here is my unedited journal report:
Ariadne's Magic Ball
Overnight I led a workshop in which I guided eager participants on a new group journey modeled on the story of Ariadne's thread. The assignment was to find your way through a confusing maze to confront your own version of the Minotaur: the shape of the fear that prevents you from claiming your full creative gifts. I instructed the journeyers to take with them a magic ball of luminous thread. They would tie one end of the thread to the lintel at the entrance to the maze and then let the ball roll before them, guiding them to the place of encounter with the Beast. They would then follow the thread back, like Theseus the Minotaur-slayer.
My Personal List of 10 Best Spiritual Books
A recent interview with Sandra Sedgebeer for the No B.S. Spiritual Book Club
Available Now!
GROWING BIG DREAMS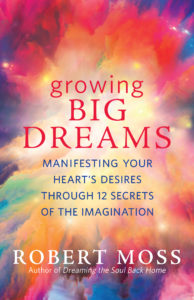 I am thrilled to announce that my new book
GROWING BIG DREAMS
will be published by New World Library on September 29. My aim is to help us all use the gateways of dreams and imagination to get through hard times and grow our visions of a larger, more abundant life so strong that they will take root in the world. Surely a book for our times and our condition. It's available for pre-order now.
Here's a fun note on the pre-history: A year ago, I had a clear vision in the space between sleep and awake of the manuscript of my new book being delivered to my door in a baby basket.
July 6, 2019: Hypnapompic zone
Baby Basket at My Door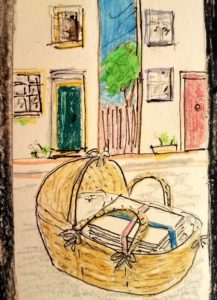 Someone is at the door, making a delivery. I go to the door and look out into a narrow street of whitewashed houses, flooded with sunlight. At my door someone has left a baby basket. Really? I look more closely. Instead of a baby there is a bundle of typed pages, neatly stacked and tied with both pink and blue ribbons. I know this is the next book I will publish. Feelings: happy, excited
At that point I had not decided what my next book would be or made a publishing plan. After I shared my dream and the drawing with my wonderful editor Georgia Ann Hughes we agreed on a plan for the book.  GROWING BIG DREAMS, which contains a chapter on the creative gifts of hanging out in that liminal space between sleep and awake, was officially published on September 29. The audiobook version, narrated by me, is available on Audible.