Radio Show Archive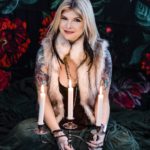 A lively conversation with Danielle Dulsky, author of
The Holy Wild: A Heathen Bible for the Untamed Woman
Every fall I lead a 4 day adventure at a villa in the Carpathian mountains within line of site of Dracula's castle at Bran. The veils between the worlds are thin here and the extraordinary is easy. We embark in marvelous group shamanic adventures in the multiverse, we brave the gates of death and learn to become dream seers, kairomancers and soul healers. Listen to Robert talk with Ana Maria Stefanescu, leader of the School of Active Dreaming in Romania, about the adventures we have shared and hear them play our fun, fast Lightning Dreamwork game with their personal experiences.
Our Lightning Dreamwork process makes it easy and fun to share dreams and life stories just about anywhere, including a coffee break at the office. In a lively conversation, Robert and dream teacher Sara Britt talk about what inspires people to start sharing dreams – the number #1 reason is that they have dreamed of the deceased – and how we can provide confirmation and validation and encourage them to listen more closely to dreams and bring guidance and energy from the dreamworlds into regular life. They also discuss the gift of the humdrum, workaday dreams that may give us an exact rehearsal of things that lie ahead.
In this wildly entertaining show, Robert's guest is The Traveler – the Dream Robert who gets out and visits other times and other worlds while his physical body is dormant. The Traveler is the protagonist of many of the adventures in Robert's new book Mysterious Realities.
Have fun with Robert and dream teacher and artist Tenaya as they work the Lightning Dreamwork game with each other's dreams – and learn how to bring this fun, fast way of sharing dreams and personal stories into your relationships, which will deepen and grow in amazing ways. Tenaya also talks about the genesis of her painting "The Amber Road" in her visionary quest for her ancestors. The painting graces the cover of Robert's book Hand feels like an invitation to the mysteries.
A lively conversation with musician and dream explorer Travis Wernet on dreaming as a source of energy, creative inspiration and guidance in everyday life. The discussions deepens as Robert and Travis talk about how, dreaming, we may find ourselves in the company of the deceased who are alive somewhere else, and as Travis described how he was guided by Aborigines to find the right tree for his didgeridoo.
Real magic, as Robert defines it, consists of bringing gifts from another world into this one.  We do this when we remember our dreams and talk them and walk them so that we embody their gifts of healing and creative energy and guidance in everyday lives.  Listen to Robert's lively conversation with Ann Arbor dream teacher Julie Tumbarello in which they have fun sharing dreams by the Lightning Dreamwork method, modeling how to open a safe space where you can share your own dreams and life stories with a partner, get helpful feedback and guidance on how to honor your experiences, in just a few minutes.
Teresa is a gifted and highly creative educator, artist and teacher of Active Dreaming.  You'll enjoy the fun of playing our Lightning Dreamwork game as Robert and Teresa take turns to play guides for each other in working each other's dreams.  You'll learn why we need to take action to honor our dreams and embody their energy and guidance in our lives and our relationships.
Most human cultures have looked to dreams for direct access to the sacred, to the God or gods we can talk to. Robert discusses with spiritual dreamer and Dominican Sister Carol Davis her own experiences of divine dreaming. As they share fresh dreams and explore them through our Lightning Dreamwork process, you'll realize that dreaming, in itself, is divine!
The ancient Greek physician Galen wrote in drams our consciousness may travel through the body, examining its condition, and then report back to the waking self in the morning. Robert discusses with the co-author of "Dreams that Can Save Your Life" how dreams can provide an impeccable diagnosis of our physical, mental and emotional health, and provide fresh and personal imagery that can help us to get well and stay well.
Robert talks to European dream teacher and shamanic practitioner Willem Hartman about soul loss and soul retrieval, how shamans are called by dreams, and why everyone who dreams is "a little bit shaman".
The Many Worlds hypothesis in physics tells us that it is probable that indeed we are living in one of many parallel universes and that they are interactive. How can you confirm this for yourself? How can you build on this knowledge to empower your present life? This is a central theme of my conversation with Christine Upchurch, a popular Seattle-based radio show host as well as an energy healer, life coach and creator of "Vibration of Change", a road map for soul travelers. We share impressions of past and parallel lives, including Christine's effort to intercede in the life of a parallel self who never left Lincoln, Nebraska to get her to quit smoking.