Online Courses at The Shift Network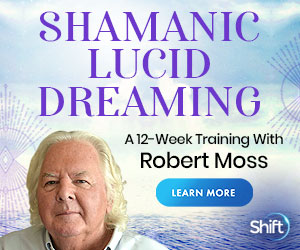 SHAMANIC LUCID DREAMING
Follow Your Soul Direction, Co-create with Seen & Unseen Allies and Live Your Best Life
12-Week Live Video Training starts Tuesday November 9
on The Shift Network
Shamanic Lucid Dreaming, my new course on The Shift Network, starts on Tuesday, November 9. Over the twelve weeks of this live video training, you'll learn how to explore the dreamtime as one of the most powerful tools for true soul work, healing, and transformation. You'll dream-journey while awake, practicing shamanic lucid dreaming, my powerful and original synthesis of shamanic journeying, creative imagination, and my modern dreamwork approach called Active Dreaming.
As you awaken to what dreaming can be, you open communication with your authentic spiritual teachers, you restore your inner compass and you gain access to creative solutions that escape the everyday mind.
During this course, you will:
Learn that when you're passionately engaged in a creative venture, you draw support from other minds and other beings, seen and unseen
Meet the Soul of your Soul on the highest level accessible to you now
Use a dream or personal image as the portal for a shamanic journey
Discover a place of sanctuary and connection with spiritual allies you can go to any time
Break a dream drought and open to the power of your dreams
Learn a fun, fast way to share your dreams and life stories with others and receive helpful feedback and guidance on how to embody their guidance and energy in everyday life
Keep a journal as a secret book of your soul and a place to free your inner seer and creator
Find your Windhorse of Spirit and ride it to a reunion with aspects of your Self and your gifts that have not been fully present in your life
Learn a simple, practical ritual for fire, releasing heavy energy and unwanted attachments
Develop a treasury of living symbols you can use to release the creator in you, connect with spiritual traditions that are calling you, and help heal yourself and others
Practice everyday seership and enter creative flow with the help of the element of water
Use dreams and life memories as clues to where vital energy and identity have gone missing and can be found
Journey through the 7 major chakras to diagnose your current state of physical, emotional, and mental health
Learn that all our life choices are witnessed by that creative spirit that Yeats called the daimon and the Romans called the genius
View the Master Work you will bring into the world, as it already exists in a deeper reality
Journey into a parallel life to dismiss old regrets and claim gifts and knowledge from your selves who made different choices
And much more…
In this 12-week course, you'll learn the fundamental skills you'll need to successfully unveil and follow your soul direction and true calling using powerful shamanic lucid-dreaming practices and the wisdom and guidance of the dreamtime. This course will feature LIVE teachings, interactive training sessions, experiential practices, and Q&A. Each session will build harmoniously upon the previous ones, so you'll develop a complete holistic understanding of the practices, tools, and principles you'll need to embark on a profound adventure of soul-inquiry — accelerating your personal and spiritual growth for a life of meaning, passion, and joy.
Robert has led online, multi-week courses through The Shift Network since 2014. Downloadable packages of recordings and transcripts of these courses are available at affordable prices (completion of one or more courses fulfills a prerequisite for acceptance for Robert's Dream Teacher Training)
Recent courses
Dreaming Your Mythic Life: https://shiftnetwork.isrefer.com/go/dmlRM/mossdreams/
Dream Journeys Beyond the Veil: https://shiftnetwork.isrefer.com/go/djcRM/mossdreams/
Shamanic Dreaming With Goddesses of Rebirth: https://shiftnetwork.isrefer.com/go/sdgrRM/mossdreams/
Adventures for Healing in the Dreamtime: https://shiftnetwork.isrefer.com/go/ahRM/mossdreams/
Earlier courses
Dreaming the Soul Back Home: https://shiftnetwork.isrefer.com/go/dshRM/mossdreams/
Dreaming Your Soul into Life: https://shiftnetwork.isrefer.com/go/dslRM/mossdreams/
Dreaming Wide Awake: https://shiftnetwork.isrefer.com/go/dwaRM/mossdreams/
Quantum Dreaming: https://shiftnetwork.isrefer.com/go/qdcRM/mossdreams/
Living Your Mythic Edge: https://shiftnetwork.isrefer.com/go/lmeRM/mossdreams/
Active Dreaming: The Essential Training: https://shiftnetwork.isrefer.com/go/adtRM/mossdreams/
Dancing with the Bear: https://shiftnetwork.isrefer.com/go/dwbRM/mossdreams/
The Soul Recovery Training: https://shiftnetwork.isrefer.com/go/srtRM/mossdreams/
Shamanic Approaches to Death, Dying & the Afterlife: https://shiftnetwork.isrefer.com/go/ddaRM/mossdreams/
School of Imaginal Healing: https://shiftnetwork.isrefer.com/go/sihRM/mossdreams/
The School of Dream Growing: https://shiftnetwork.isrefer.com/go/sdgRM/mossdreams/
The Dreamer's School of Soul: https://shiftnetwork.isrefer.com/go/dssRM/mossdreams/
Dreaming into the Dreamtime: https://shiftnetwork.isrefer.com/go/ddRM/mossdreams/

Founded in 2010, The Shift Network empowers a global movement of people who are creating an evolutionary shift of consciousness that in turn leads to a more enlightened society, one built on principles of peace, sustainability, health, and prosperity. Through online summits and courses, The Shift Network has served more than 530,000 worldwide who are committed to shifting our world's operating system.
Robert is one of the wisest people I have ever had the good fortune of meeting.
Watch full video HERE
Thank you Robert.  I cannot think of another person on the planet who could quite as powerfully (as you have done) create the space for a group like this one that travels far and high and wide and deep. You have a wonderful gift and way about you . . .and I too will have what the mythical man is having.
I feel like I am living in at least two worlds and it has been a Magical Mystery Tour. Thank you dear Robert, I hope to join you for more adventures.  It's such good company and I want to stay with this momentum!
There are no words to express my sense of gratitude and wonder. And I think I understand more fully the significance of anamnesis – that I am remembering what my soul already knew. Such a privilege to have participated in this course at this time.  Profound thanks to you, dear Robert, and heartfelt gratitude to the group. You have guided and supported me in a liberating and empowering soul journey over these months and I thank you for your generous authenticity and your wise guidance.
I'm so grateful for your teaching and the kindness and compassion you bring to these lessons. Thank you.
Thank you Robert and fellow soul voyagers for the journeys that just keep on giving. I would never have imagined how many beautiful gifts we could gather, return with and share together. It has been a trip of a lifetime and I give thanks to you all for your guidance, thoughts and beautiful teaching along the way.
Thank you Robert Moss for this wonderful class. This class was a journey of deepening self discovery for me. … There are journeys I am looking forward to repeating many times.