At the Robert Moss BLOG
The real history of Lincoln's dream
August 27, 2021
Most of us know that Abraham Lincoln dreamed of his assassination a couple of weeks before he was shot. But the full story of that dream – of how it haunted Lincoln, and how he tried to get a second opinion on it, and finally failed, tragically, to heed the warning – is much more intriguing and instructive than the truncated version we are usually given.
The original source is a memoir by Lincoln's friend and aide Colonel Ward Hill Lamon, who heard him tell the dream. In Recollections of Abraham Lincoln Lamon recalls that Lincoln was "haunted" by a sinister dream that seemed "amazingly real" but said nothing until confronted by his wife Mary to explain his melancholy and "want of spirit."
Lincoln began by talking about the Bible. "It is strange how much there is in the Bible about dreams….If we believe the Bible, we must accept the fact that in the old days God and His angels came to men in their sleep and made themselves known by dreams."
Asked for his own views on dreams, Lincoln revealed that he was "haunted" by a dream from a few nights before – and that he had sought a second opinion on the dream, repeatedly, by opening his Bible at random and seeking a message in the text his eye fell upon. The first time he did this, he found himself in Genesis 28, reading the story of Jacob's Ladder, one of the great dream visions in the Bible. He tried again and again. "I turned to other passages and seemed to encounter a dream or vision wherever I looked.
My Personal List of 10 Best Spiritual Books
A recent interview with Sandra Sedgebeer for the No B.S. Spiritual Book Club
Available Now!
GROWING BIG DREAMS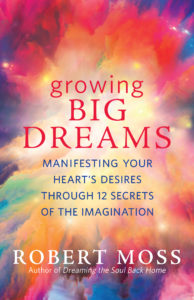 I am thrilled to announce that my new book
GROWING BIG DREAMS
will be published by New World Library on September 29. My aim is to help us all use the gateways of dreams and imagination to get through hard times and grow our visions of a larger, more abundant life so strong that they will take root in the world. Surely a book for our times and our condition. It's available for pre-order now.
Here's a fun note on the pre-history: A year ago, I had a clear vision in the space between sleep and awake of the manuscript of my new book being delivered to my door in a baby basket.
July 6, 2019: Hypnapompic zone
Baby Basket at My Door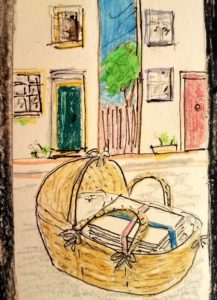 Someone is at the door, making a delivery. I go to the door and look out into a narrow street of whitewashed houses, flooded with sunlight. At my door someone has left a baby basket. Really? I look more closely. Instead of a baby there is a bundle of typed pages, neatly stacked and tied with both pink and blue ribbons. I know this is the next book I will publish. Feelings: happy, excited
At that point I had not decided what my next book would be or made a publishing plan. After I shared my dream and the drawing with my wonderful editor Georgia Ann Hughes we agreed on a plan for the book.  GROWING BIG DREAMS, which contains a chapter on the creative gifts of hanging out in that liminal space between sleep and awake, was officially published on September 29. The audiobook version, narrated by me, is available on Audible.