At the Robert Moss BLOG
Scottish Crossings to Fairyland
June 12, 2022
Robert Kirk, a seventeenth-century Anglican vicar at Aberfoyle in Scotland, wrote a remarkably detailed account of the Otherworld, its inhabitants, and their intercourse with living human beings. He wrote it by hand, as magical texts need to be written, with the greatest of  care, in 1691. Kirk's Secret Commonwealth is not another collection of folklore and popular beliefs but a rigorous study, scientific by the standards of its day, that is clearly grounded in experience. Its main interest today is that it describes a "secret way of correspondence" with the invisible world: a means of crossing between ordinary and nonordinary reality at will.
Kirk subtitled his work "An Essay of the Nature and actions of the Subterranean and for the most part Invisible People, heretofore going by the names of Elves, Fauns and Fairies and the like." By "subterranean," he does not mean creatures living in dark, gloomy places in the bowels of the earth. Their realm is full of light, though it is not lit by any sun. They live in "cavities" and may pass wherever air may go. The earth is "full of cavities and cells," and everywhere is inhabited; there is "no such thing as pure wilderness in the whole Universe."
My Personal List of 10 Best Spiritual Books
A recent interview with Sandra Sedgebeer for the No B.S. Spiritual Book Club
Available Now!
GROWING BIG DREAMS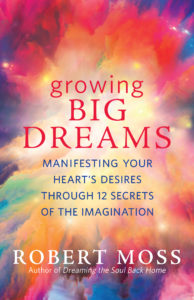 I am thrilled to announce that my new book
GROWING BIG DREAMS
will be published by New World Library on September 29. My aim is to help us all use the gateways of dreams and imagination to get through hard times and grow our visions of a larger, more abundant life so strong that they will take root in the world. Surely a book for our times and our condition. It's available for pre-order now.
Here's a fun note on the pre-history: A year ago, I had a clear vision in the space between sleep and awake of the manuscript of my new book being delivered to my door in a baby basket.
July 6, 2019: Hypnapompic zone
Baby Basket at My Door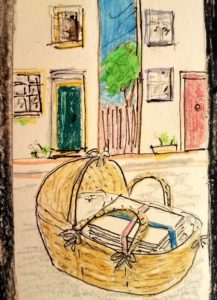 Someone is at the door, making a delivery. I go to the door and look out into a narrow street of whitewashed houses, flooded with sunlight. At my door someone has left a baby basket. Really? I look more closely. Instead of a baby there is a bundle of typed pages, neatly stacked and tied with both pink and blue ribbons. I know this is the next book I will publish. Feelings: happy, excited
At that point I had not decided what my next book would be or made a publishing plan. After I shared my dream and the drawing with my wonderful editor Georgia Ann Hughes we agreed on a plan for the book.  GROWING BIG DREAMS, which contains a chapter on the creative gifts of hanging out in that liminal space between sleep and awake, was officially published on September 29. The audiobook version, narrated by me, is available on Audible.