At the Robert Moss BLOG
Dream Archaeology: Sosipatra Dances with Her Divine Double
January 19, 2023
I made this drawing from a dream I recorded on December 16, 2022.
She moves across the mosaic floor in a slow ritual dance. Across the space a second figure matches her steps. I notice, without surprise, that they appear to be the same person. She is dancing with her double. Perhaps this is how she succeeds in the feats of clairvoyance and precognition for which she is famed in the city. Her name is Sosipatra. I know her story intimately.
In the weeks since recording this dream I have been engaged in dedicated research on Sosipatra, who was famed as a philosopher and oracle who led her own school in Pergamon in the 4th century CE, and her milieu. This is the kind of work I call dream archaeology, and I enjoy immensely. I have gained from the work of a spirited band of contemporary scholars of Neoplatonism, including Gregory Shaw and Heidi Marx, who has given us the first modern biography of Sosipatra. My preliminary findings are in this blog.
My Personal List of 10 Best Spiritual Books
A recent interview with Sandra Sedgebeer for the No B.S. Spiritual Book Club
Available Now!
GROWING BIG DREAMS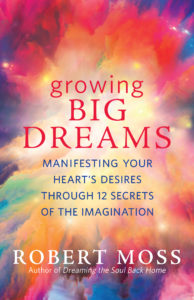 I am thrilled to announce that my new book
GROWING BIG DREAMS
will be published by New World Library on September 29. My aim is to help us all use the gateways of dreams and imagination to get through hard times and grow our visions of a larger, more abundant life so strong that they will take root in the world. Surely a book for our times and our condition. It's available for pre-order now.
Here's a fun note on the pre-history: A year ago, I had a clear vision in the space between sleep and awake of the manuscript of my new book being delivered to my door in a baby basket.
July 6, 2019: Hypnapompic zone
Baby Basket at My Door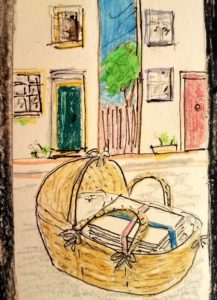 Someone is at the door, making a delivery. I go to the door and look out into a narrow street of whitewashed houses, flooded with sunlight. At my door someone has left a baby basket. Really? I look more closely. Instead of a baby there is a bundle of typed pages, neatly stacked and tied with both pink and blue ribbons. I know this is the next book I will publish. Feelings: happy, excited
At that point I had not decided what my next book would be or made a publishing plan. After I shared my dream and the drawing with my wonderful editor Georgia Ann Hughes we agreed on a plan for the book.  GROWING BIG DREAMS, which contains a chapter on the creative gifts of hanging out in that liminal space between sleep and awake, was officially published on September 29. The audiobook version, narrated by me, is available on Audible.