At the Robert Moss BLOG
Crumpet Time
November 27, 2021
I know this: we can travel across time, and we can play mentor and counselor to a younger self, or receive help and guidance from a wiser older self. At the very least, when we reach to that younger self, we can offer the assurance that however much he is suffering, he will make it through. I know this because I started doing it when I was in my midforties, reaching back to the sick and lonely boy who found it so hard to live in the ordinary world.
The friends who helped me most in this period were invisible to others. One of the best of these friends was the Big Man. He was like a favorite uncle I did not have. One of the lessons he taught me was how to eat crumpets.
The Big Man came to me when I was in my bedroom, sick and lonely and feeling really sorry for myself. It was one of those days when I wanted to leave. I was curled up in the bed, with the covers pulled up over my head. I had been pretending I was in a silken tent in the desert, being waited upon and entertained by dancing girls. But I started coughing until my chest hurt and I was spitting into the basin beside the bed. I fell back, exhausted and desperate, and buried my face in the pillow, hoping to conceal the sound of my coughing from my mother.
My Personal List of 10 Best Spiritual Books
A recent interview with Sandra Sedgebeer for the No B.S. Spiritual Book Club
Available Now!
GROWING BIG DREAMS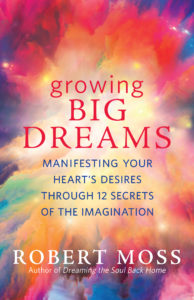 I am thrilled to announce that my new book
GROWING BIG DREAMS
will be published by New World Library on September 29. My aim is to help us all use the gateways of dreams and imagination to get through hard times and grow our visions of a larger, more abundant life so strong that they will take root in the world. Surely a book for our times and our condition. It's available for pre-order now.
Here's a fun note on the pre-history: A year ago, I had a clear vision in the space between sleep and awake of the manuscript of my new book being delivered to my door in a baby basket.
July 6, 2019: Hypnapompic zone
Baby Basket at My Door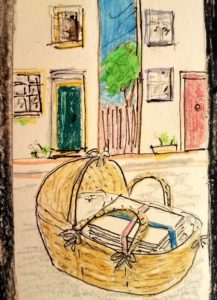 Someone is at the door, making a delivery. I go to the door and look out into a narrow street of whitewashed houses, flooded with sunlight. At my door someone has left a baby basket. Really? I look more closely. Instead of a baby there is a bundle of typed pages, neatly stacked and tied with both pink and blue ribbons. I know this is the next book I will publish. Feelings: happy, excited
At that point I had not decided what my next book would be or made a publishing plan. After I shared my dream and the drawing with my wonderful editor Georgia Ann Hughes we agreed on a plan for the book.  GROWING BIG DREAMS, which contains a chapter on the creative gifts of hanging out in that liminal space between sleep and awake, was officially published on September 29. The audiobook version, narrated by me, is available on Audible.