At the Robert Moss BLOG
I Can Ride Dragons But I Can't Fly
October 10, 2021
The forest is green fire, bursting and thrusting with life.  Below the great tree where I am stretched out, the slope of the mountain drops in green splendor for miles, down to a river that is green and small as a grass snake from this height. A bright green vine as thick as my wrist bends in a loop between me and the sky.
My attention shivers. My cheek is on a pillow. My awareness is back in the body I left here, on the bed. Gray morning light comes through a narrow gap in the curtains above the bed. I smell bacon, and my inner dog is ready to go downstairs. But the tug of the green world is deeper.
I plunge back into that world. My body feels stronger and lighter, perfectly toned. I want to jump off the cliff and fly. I have done this so many times before, in other dreams. I will my wings to sprout from my shoulders again. This seems less successful than usual. While my body in the green world feels entirely physical, my wings seem flimsy and insubstantial, hardly more than a notion. This does not matter, surely.  When I take the jump, I'll find myself flying. Flying in dreams is easy. All you have to do is fall, and fail to hit bottom.
My Personal List of 10 Best Spiritual Books
A recent interview with Sandra Sedgebeer for the No B.S. Spiritual Book Club
Available Now!
GROWING BIG DREAMS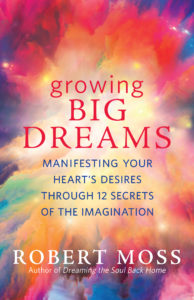 I am thrilled to announce that my new book
GROWING BIG DREAMS
will be published by New World Library on September 29. My aim is to help us all use the gateways of dreams and imagination to get through hard times and grow our visions of a larger, more abundant life so strong that they will take root in the world. Surely a book for our times and our condition. It's available for pre-order now.
Here's a fun note on the pre-history: A year ago, I had a clear vision in the space between sleep and awake of the manuscript of my new book being delivered to my door in a baby basket.
July 6, 2019: Hypnapompic zone
Baby Basket at My Door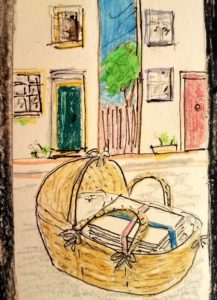 Someone is at the door, making a delivery. I go to the door and look out into a narrow street of whitewashed houses, flooded with sunlight. At my door someone has left a baby basket. Really? I look more closely. Instead of a baby there is a bundle of typed pages, neatly stacked and tied with both pink and blue ribbons. I know this is the next book I will publish. Feelings: happy, excited
At that point I had not decided what my next book would be or made a publishing plan. After I shared my dream and the drawing with my wonderful editor Georgia Ann Hughes we agreed on a plan for the book.  GROWING BIG DREAMS, which contains a chapter on the creative gifts of hanging out in that liminal space between sleep and awake, was officially published on September 29. The audiobook version, narrated by me, is available on Audible.