At the Robert Moss BLOG
The Drowning Boy and His Sister
August 9, 2022
When I was nine years old, before I left my body in an operating theater and went to another world, I nearly drowned. I had been out fishing with my father and his friends on a boat on a river near Melbourne, Australia. When we docked, I slipped on the gangplank and fell into the water. Nobody could understand that I was in any danger. The water was shallow and I was a good swimmer. Yet all my short life was swirling through my mind, with glimpses of places and people I had not met in ordinary reality. Finally someone reached down and hauled me out. Then I was on my belly, coughing up the brackish water I had swallowed.
Half a world away, in Memphis, Tennessee, a girl my age dreamed that a boy with a round, freckled face, was drowning, though no one understood he was in danger. In her dream, she reached down into the water and helped to pull him out.
My Personal List of 10 Best Spiritual Books
A recent interview with Sandra Sedgebeer for the No B.S. Spiritual Book Club
Available Now!
GROWING BIG DREAMS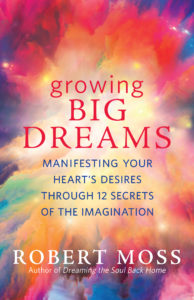 I am thrilled to announce that my new book
GROWING BIG DREAMS
will be published by New World Library on September 29. My aim is to help us all use the gateways of dreams and imagination to get through hard times and grow our visions of a larger, more abundant life so strong that they will take root in the world. Surely a book for our times and our condition. It's available for pre-order now.
Here's a fun note on the pre-history: A year ago, I had a clear vision in the space between sleep and awake of the manuscript of my new book being delivered to my door in a baby basket.
July 6, 2019: Hypnapompic zone
Baby Basket at My Door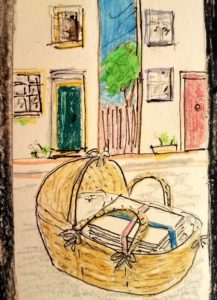 Someone is at the door, making a delivery. I go to the door and look out into a narrow street of whitewashed houses, flooded with sunlight. At my door someone has left a baby basket. Really? I look more closely. Instead of a baby there is a bundle of typed pages, neatly stacked and tied with both pink and blue ribbons. I know this is the next book I will publish. Feelings: happy, excited
At that point I had not decided what my next book would be or made a publishing plan. After I shared my dream and the drawing with my wonderful editor Georgia Ann Hughes we agreed on a plan for the book.  GROWING BIG DREAMS, which contains a chapter on the creative gifts of hanging out in that liminal space between sleep and awake, was officially published on September 29. The audiobook version, narrated by me, is available on Audible.