At the Robert Moss BLOG
Trainer Bikes for Dream Flyers
December 28, 2021
I was inspired by dream sharing today to make a quick drawing of a scene that has recurred and evolved in a series of my dreams over the years. I observe, and later help to lead, a very special flight school. After I made the sketch, I found my original dream report, dated September 22, 2008. My drawing does not do justice to all the details of the first dream in the series, but it carries the spirit of the whole.
I am walking on the beach. The colors are the wonderfully vivid hues of poster paints. The sea is French blue, with fluffy little whitecaps. The sand is oriole-yellow. There is a distinctly French Impressionist quality to the whole scene, so much so that I feel that if I turn around quickly, I might catch a glimpse of the artist who has just painted it – and maybe the scene will end at the edge of his canvas. Yet the scene is entirely alive.
I walk with a male companion, studying the scene. He is wearing a frock coat and a top hat, has a neatly trimmed black beard, and is swinging a walking stick. I notice that everyone on the beach, like my companion, is dressed in the clothes of another era. The women wear full bathing costumes, and the men wear sleeveless tops with their bathing trunks. There is something more remarkable. Nearly everyone has a cycle. More sedate couples ride bicycles – including at least one tandem bike, built of two – along the esplanade. Others are riding on the sand, or through the shallows of the water. More daring cyclists are riding in mid-air, ten feet off the ground.
My Personal List of 10 Best Spiritual Books
A recent interview with Sandra Sedgebeer for the No B.S. Spiritual Book Club
Available Now!
GROWING BIG DREAMS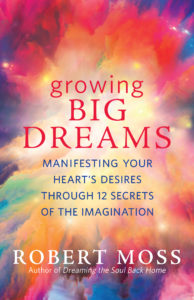 I am thrilled to announce that my new book
GROWING BIG DREAMS
will be published by New World Library on September 29. My aim is to help us all use the gateways of dreams and imagination to get through hard times and grow our visions of a larger, more abundant life so strong that they will take root in the world. Surely a book for our times and our condition. It's available for pre-order now.
Here's a fun note on the pre-history: A year ago, I had a clear vision in the space between sleep and awake of the manuscript of my new book being delivered to my door in a baby basket.
July 6, 2019: Hypnapompic zone
Baby Basket at My Door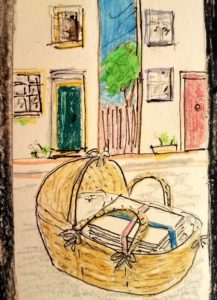 Someone is at the door, making a delivery. I go to the door and look out into a narrow street of whitewashed houses, flooded with sunlight. At my door someone has left a baby basket. Really? I look more closely. Instead of a baby there is a bundle of typed pages, neatly stacked and tied with both pink and blue ribbons. I know this is the next book I will publish. Feelings: happy, excited
At that point I had not decided what my next book would be or made a publishing plan. After I shared my dream and the drawing with my wonderful editor Georgia Ann Hughes we agreed on a plan for the book.  GROWING BIG DREAMS, which contains a chapter on the creative gifts of hanging out in that liminal space between sleep and awake, was officially published on September 29. The audiobook version, narrated by me, is available on Audible.